The Design Contest is open until January 15, 2024 at Midnight CT at 11:59 pm CT. Submissions after that time are not applicable for the contest 😉
Each year CHIditarod hosts a super fun design contest where anyone can submit designs for the year's race patches, clothing, and poster. The design contest is a great way to have your artistic skills immortalized and proudly worn by our participants for decades to come. Plus — if you win, a CHIditarod race team of your choosing races for free! (cart deposit still required) Each category has a set of basic requirements, so make sure you give each tab a read before you get started.
Once you are ready to submit, click the "upload" tab.
CHIditarod Patch
Limited-edition single-run embroidered patch, unique every year.
We plan on producing hexagon-shaped patches until 2024 so get comfy and tuck into this year's patch template. Your design can have up to 7 layers of color, which you are highly encouraged to leverage.
To download a PSD template click here.
The patch has a length of 2 inches on each side, plus a 1/4 inch stitch border around the entire shape.
Use a minimum DPI of 300.
Requirements
All patch designs must include the following design elements:

The words "CHIditarod XIX"
A shopping cart

Each color must be its own layer. Remember to keep your design layered in case you win and we go to production, since we will need every layer individually.
Remember this is a stitched patch. Colored thread on a black fabric background.
Only so much detail will translate to thread, so keep your lines thick. Avoid small thin lines.
No shading or half tones, its either black or it's white.
Examples
Prior Patch Samples
2006, 2007, 2008, 2009, 2010, 2011, 2012, 2013, 2014, 2015, 2016, 2017

CHIditarod Shirt
Unique, hand-made silkscreened apparel in various stylish cuts and colors. T-Shirts, hats, onesies, panties, etc.
To download a PSD template click here.
To create your own template, set your work area to 8.5 inches x 11 inches and a minimum DPI of 300.
Requirements
The words "CHIditarod XIX"
A shopping cart
Design Advice
Your design should look unbelievably hot on a t-shirt (or panties, or a sleeve, or a onesie, etc)
Shirts are silkscreened, so shading and half tones are not ok. Keep it black and white.
Too much detail on a silkscreen is lost after multiple prints so keep it to a minimum.
Shirt Samples
Template, 2007, 2008, 2009, 2010, 2011, 2012, 2013, 2014, 2015, 2016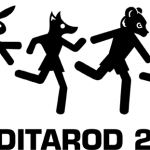 CHIditarod Poster Design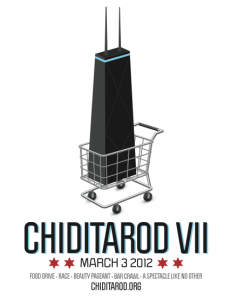 Posters find their way into shops and onto the streets all over the city. They provide the critical details – who, what, when, where, how, and why. Freed by the lack of constraints associated with the patch and t-shirt designs, go nuts!
To download a PSD template click here.
To create your own template:
Set your work area to 11 inches x 17 inches and a minimum DPI of 300.
Poster designs must include:
The words "CHIditarod XIX"
The tagline "Probably the world's largest mobile food drive" and something like "register, volunteer or get more information at www.chiditarod.org"
The date of the race "MM/DD/YYYY"
A shopping cart
Design Advice
You may include additional wording to enhance your design and drum up interest.
Be creative with your copy writing and word smithing but keep it to a minimum, less is more.
Use custom fonts for headlines ONLY, use a basic font for everything else.
Color is OK but much more expensive for us to print, make sure your design looks good in black and white too.
Shading and halftones are OK.
Bonus!
If you feel so inclined, a poster design with an aspect ratio of 8.5 x 11 inches would save us time and let us print smaller if we decide to go that route. If you provide it we almost certainly will!
Poster Samples
Template, 2006, 2007, 2008, 2009, 2010, 2011, 2012, 2013, 2014, 2015, 2016, 2017
Design Guidelines
When you upload, please title your files appropriately starting with the current year and include nice tags, like:
2011-chiditarod-patch-your_name.pdf
2012-chiditarod-shirt-your_name.pdf
2013-chiditarod-poster-your_name.pdf
Please upload high resolution PDFs for your design submissions. If we choose your design we will contact you for your final design files. Acceptable final design files include layered Photoshop PSD and Illustrator AI files. Please make sure you keep any custom fonts you use and provide them with your final design package if you are chosen. Visit dafont.com for free custom fonts and enter your text in the preview to see how it looks. Choose your font based on legibility. Show it to others to make sure they can easily read what it says.
---
Selection Criteria
Design winners will be evaluated and selected based on the following criteria:
Aesthetic: Is it rad? Is it sweet? Will people WANT to have it? Does it embody the spirit of the CHIditarod? You know… Chicago, winning, explosions, shenanigans, charity, covert ops, carts, mayhem, epic victory, glory, etc.
Originality: How much does it stand out from previous years? Has it been done before? Does it ride the edge of carting art?
Functionality: Does it work as a patch? Can we screen print it? Does it convey the message?
---
Fabulous Prizes!
First, the glory of knowing your creative brain made CHIditarod that much more awesome. As if you needed anything else, every design winner will win a
free race registration for a CHIditarod team of their choice
, and access to the legendary VIPotty in the yard, pre-race. On top of that, each design winner will receive a copy of what they made:
Patch Design Winner: A 5-pack of patches for you and your team.
T-shirt Design Winner: A t-shirt with your design.
Poster Design Winner: A high-quality, color print of your poster.
---
Questions?
If you have a questions that is not addressed in these guidelines please email us at: design@chiditarod.org.